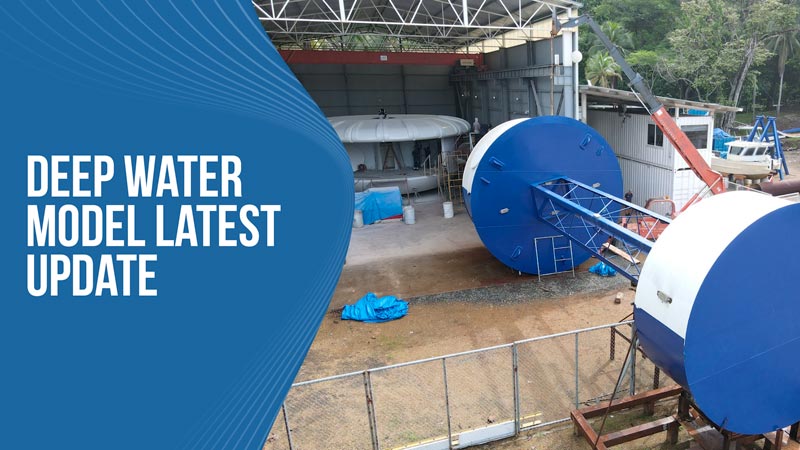 Less than 1 minute
Reading TIme:
Minutes
We have been a bit short of updating you on the work going on at the factory, and we apologize for that. But that's because we have been very busy as our team worked very hard behind the scenes on the Pod deep water model, the SeaPod Alpha Deep!
Today, we have Connor Firmender,head of global expansion with Ocean Builders, to show us the tremendous progress done on this new SeaPod version to be deployed in the Linton Bay area once completed.
The Alpha Deep version of the SeaPod is truly going to be a marvel of engineering. As you will see in our video, our lack of factory updates didn't mean that we were not doing anything, on the contrary!
The SeaPod Eco model fiberglass shell is nearing completion as we finalize what will be our new flagship. The exterior shell is done and we are starting to wrap-up the interior of our beautiful floating house. The roof will be equipped with curved solar panels to take advantage of the large sunny area that roofs often are. As a result, we will have a lot more solar energy capture, hence be in position to use a lot more renewable power for the SeaPod' self-sufficiency.
But the real gem of Apha Deep will be what will be under the surface. To be used as a spare room, observatory, bar, or anything you wish it to be, the 3 meter ceiling high underwater room will be very fun to use.
Since it will be sitting at about 8 meters deep, safety is of course a major focus of Ocean Builder's team. As a result, it comes with many safety features, and we will get through them in a lot more details in a future dedicated article. But as Connor highlighted, the safety hatch is definitely what will make the SeaPod's underwater room a safe place to be, coupled with multiple tests done on various elements such as the windows.
We did a lot of tests to make sure that the six windows circulating the room would hold pressure perfectly. Now that they are installed, it will be exciting to test them under real underwater pressure and…enjoy the view!
We cannot wait (and you too, we have no doubts!) to submerge the underwater room and connect the SeaPod on its top because it will be a major operation. Three air chambers will be in charge of assisting the underwater room (itself acting as buoyancy chamber) in ensuring the center' spar's buyancy so that the SeaPod is fully stabilized. We will then pour concrete at the lower end of the spar for counterweight, safely attached to the room section with four tension chains surrounding a central steel frame structure.
Wasn't this update worth waiting for? Sure was! We will come with a lot more soon, but great work require great focus!
GET THE LATEST UPDATES
Want to find out the latest updates?
Submit your email and we will keep in touch.
GET THE LATEST UPDATES
Want to find out the latest updates?
Submit your email and we will keep in touch.