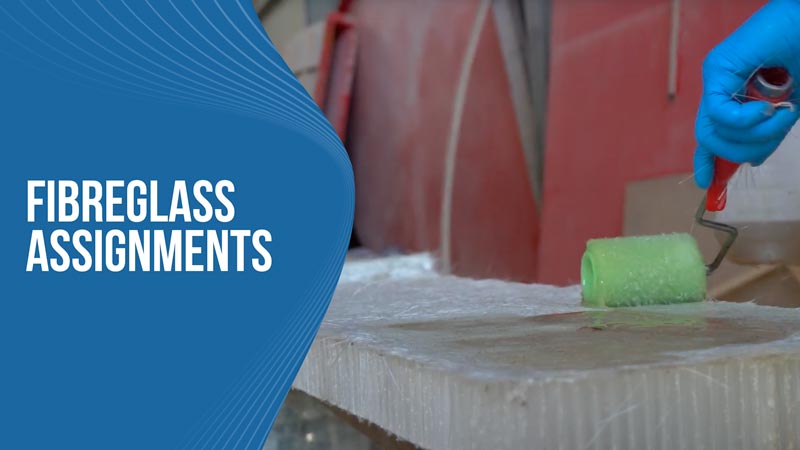 Resin and hardener work together in a chemical reaction to create strong and durable products through a process called polymerization. It's a very important material at Ocean Builder to manufacture the SeaPods.
The synergy between resin and hardener is critical for producing strong products because it results in a highly cross-linked polymer structure. This structure provides the material with its strength and durability, making it suitable for a wide range of applications, including SeaPods stairs which obviously have to be very strong to be safe over the years of going up and down. The precise control of the resin-to-hardener ratio, curing conditions, and formulation can further tailor the material's properties to meet specific requirements.
In fiberglass work, the "mat" refers to fiberglass mat or chopped strand mat (CSM). It is a non-woven fabric made of randomly oriented glass fibers held together with a binder material. Fiberglass mat is commonly used as a reinforcement material in fiberglass composite applications.
Here are some key points about fiberglass mat in fiberglass work as detailed by our fiberglass specialist in the video:
1. **Reinforcement:** Fiberglass mat is used to reinforce fiberglass composites, such as fiberglass-reinforced plastics (FRP) and fiberglass-reinforced composites. It enhances the strength, stiffness, and impact resistance of the final product.
2. **Structure:** The mat consists of randomly arranged glass fibers, which can vary in length and thickness, depending on the specific application and desired properties of the composite. The fibers are typically held together with a soluble or binder material.
3. **Layering:** Fiberglass mat is often used in combination with other reinforcement materials, such as woven fiberglass fabric or roving, to create composite laminates with tailored properties. Layering different types of reinforcement, or "sanswitch" as our staff explains, allows for greater control over the composite's characteristics.
4. **Processing:** During the manufacturing process, fiberglass mat is impregnated with resin, typically polyester or epoxy resin. The resin saturates the mat, and the composite is then cured to harden the resin, creating a strong and durable material.
Fiberglass mat is a versatile and cost-effective reinforcement material that contributes to the widespread use of fiberglass composites in various industries. Its ability to be easily molded into complex shapes, coupled with its strength and durability, makes it a valuable component in fiberglass work, and a very essential one for Ocean Builders.
GET THE LATEST UPDATES
Want to find out the latest updates?
Submit your email and we will keep in touch.
GET THE LATEST UPDATES
Want to find out the latest updates?
Submit your email and we will keep in touch.