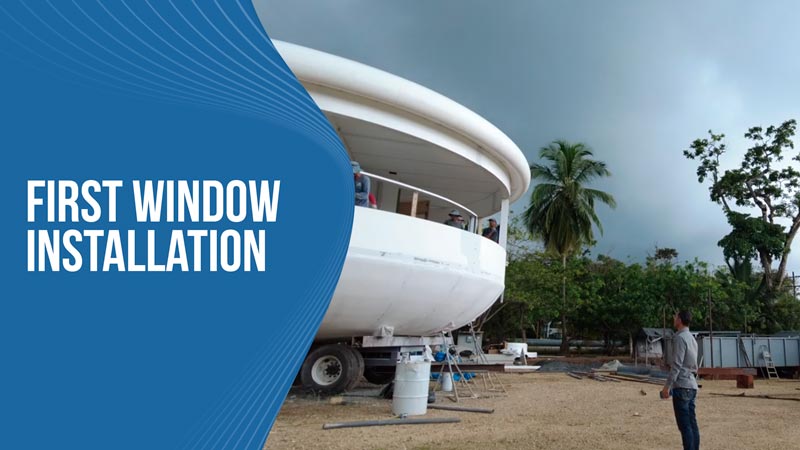 Less than 1 minute
Reading TIme:
Minutes
We are finally starting to install the first windows into the EcoPod! This project has been more than a year in the making and we are very excited to reach this massive milestone. We finished up the ceilings and now it's time to move on to the windows.
The EcoPod is still on land so we will need to lift it and move it to be mounted on the floating TriPod base that is in the water. It's possible that things may move around a little bit during this process so we are only installing the window frames for right now. The actual glass panes will be installed after it is on the water so that we don't accidentally break any of them.
These frames fit right into the open spaces that go around the EcoPod. We just have to get the frames in place and then mount them permanently. Sometimes, the gaps are too big or small so we have to make small adjustments as we go. This one was tighter on one end than the other so we will lift the roof just slightly to get everything to fit evenly.
These windows will give you a nearly 360º view from inside the home. Several of them will slide open to allow that fresh ocean breeze to fill the house. The backside will have a large set of glass doors that will slide open to make the back patio and kitchen area into a big open-air area.
We still have some work to do but things are coming along nicely. The crew has been working on completing the surface finishing on the outside and the rest of the team has been preparing the interior. This was a long time coming and these windows mark a milestone that always seemed so far away. We are getting down to crunch time but we have confidence that the crew can get the job done!
GET THE LATEST UPDATES
Want to find out the latest updates?
Submit your email and we will keep in touch.