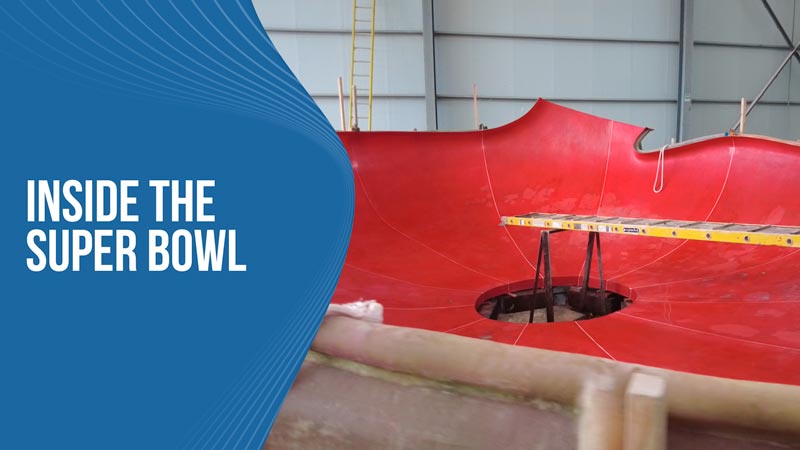 Less than 1 minute
Reading TIme:
Minutes
Grant is back at the factory with an update about what he calls the Super Bowl. This is the underside of the SeaPod roof section. This is made up of 16 sections that go together like pieces of a pie to give us one solid roof.
The molds will always have slight imperfections and while we worked really hard to get them as close to perfect as possible, being really good is acceptable when perfection is so difficult to achieve. So the result is a little bit of work on the finished product to get the surface where we want it to be.
The red surface is made of a tooling gel coat which makes an incredibly strong surface. This is great when it comes to strength and durability, but it can be difficult to work with since it is so hard. The team will sand the surface to get rid of any imperfections and to ensure that everything is smooth.
Since this is made up of individual "slices" there are seams that run in between the pieces. You can see the crew filling that seam with a putty that will harden and eliminate any seams or gaps. This first roof section has been a cumulation of several years of work and we are so excited to see it coming together so well.
We will be working to get this roof mounted to the bottom half of the SeaPod that we recently finished. Lots of projects are really starting to come alive so hopefully, we will get these put together and in the water in the coming months. Subscribe to the newsletter to make sure that you don't miss anything!
GET THE LATEST UPDATES
Want to find out the latest updates?
Submit your email and we will keep in touch.