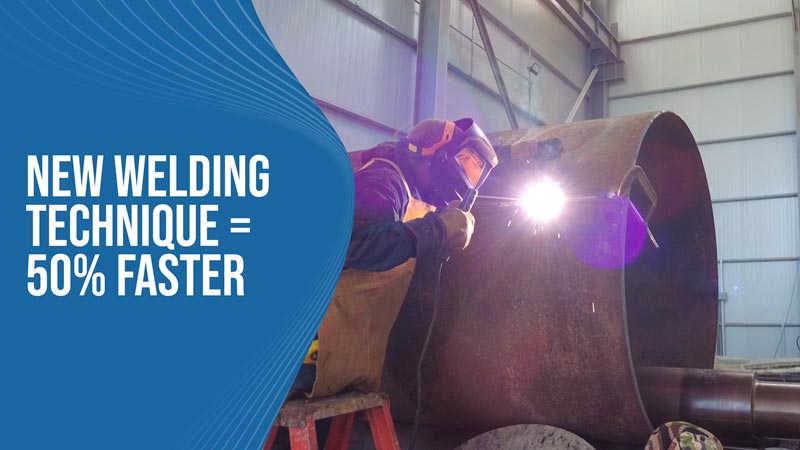 Less than 1 minute
Reading TIme:
Minutes
We use big steel tubes to build the structures of the center spars and the outriggers on the floating base. The thing about steel is that it comes in flat sheets, not tubes, so we have to make the tubes by rolling the sheets of steel into a tube shape.
We have a machine that gradually rolls the steel into the shape that we need. Once it is pretty close, we previously would remove the steel from the machine and have to manually line up the gap so that it could be welded. Steel doesn't like to move very easily which is why it is a great material to use as the structure, but this makes it difficult to work with.
Aligning the gap for welding took a lot of time and effort, sometimes over several days but we recently found a new method that will save us tons of time. The alignment of the gap moves a little bit as it is being rolled in the machine. We decided to use the machine to get the gap close enough to weld and it worked perfectly.
We rotate the tube until the gap is close enough to work with. Then, we use C-clamps on each side to hold it in place. Once it is held in place and the gap is aligned properly, we can make a few tack welds to hold everything in place. The tack weld is just a quick weld that keeps things from moving around. We will go back later and do the full structural weld that will hold the piece together forever.
This new method should make our steel production move at least 50% faster than the old method. Little things like this are a great example of how we are constantly learning as we go and finding new ways to make our entire process more efficient so that we can build more Pods at a faster rate.
GET THE LATEST UPDATES
Want to find out the latest updates?
Submit your email and we will keep in touch.