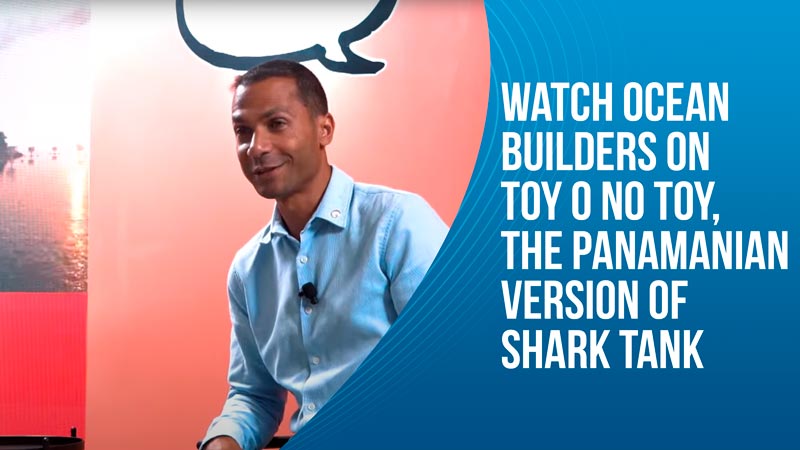 Less than 1 minute
Reading TIme:
Minutes
Ocean Builder's CEO Grant Romundt on the stage of Toy O No Toy for the Panamanian version of Shark Tank
The momentum keeps progressing very well for Ocean Builders following the SeaPod's inaugural launch as Grant, our CEO, has been invited on the set of Panama TV's most exciting show "Toy O No Toy".
Toy o No Toy might be compared to Panama's equivalent of the television program "Shark Tank," where players pitch their existing companies or new venture ideas in an effort to raise money or forge strategic alliances. If they say "Toy", it means that they are ready to invest in the project.
"IronGrant" was invited by Mayer Mizrachi and his team of investors to talk about what we are doing, what happened during the launch and what has been done to fix the tilt issue. And of course, the challenge was to get them on board! But why "IronGrant"? Watch the video until the end to find out!
It's always great to be given the opportunity to talk about what we are doing. It can be our chance to explain certain aspects of our amazing adventure. For example, it's a common misconception that the Pods are touching the seafloor while they are actually floating, secured to the seabed thanks to three anchors. People are also afraid about the amount of movement, but unlike boats, the Pod's flotations happening several meters below water, the movement is insignificant.
Obviously, we have been questioned about the SeaPod tilting issue that happened after the big event that we were so happy about, the massive milestone we just pulled off in front of so many enthusiastic supporters.
Indeed, there has been an incident as water infiltrated one of the spars. Since the according bilge pumps failed, the buoyancy was compromised and the SeaPod tilted. Fortunately, water was so shallow that the Pod wouldn't sink.
To lift it back out, we used airbags creating 3 tons worth of lift, and the Pod is now back to full buoyancy, and after a few cosmetic fixes, it will be like nothing happened.
With the anti-tilting technology we added to the Pod as well as with the 7 sealed compartments, such an unfortunate event won't indeed happen again.
Such skills brought the question about who we are. Are we an engineering company? Yes of course, but we are so much more than that. Ocean Builders is a concentration of highly skilled people in the fields of marine biology, marine engineering, mechatronics engineering. It takes so much more than building skills to create such a wonder of technology.
And it looks like Toy O No Toy's team understood very well how much our SeaPods will be a game changer in the way we live, in the way we become one with our marine environment. Indeed, when one of the investors asked, "how can we be part of this?" We felt like we won the lottery. In fact, Grant did such a great job promoting the Pod, creating excitement within the panel that he pretty much sold a unit to be shared between Toy O No Toy's investors since all of them said "TOY!", meaning that they are in!
GET THE LATEST UPDATES
Want to find out the latest updates?
Submit your email and we will keep in touch.
GET THE LATEST UPDATES
Want to find out the latest updates?
Submit your email and we will keep in touch.