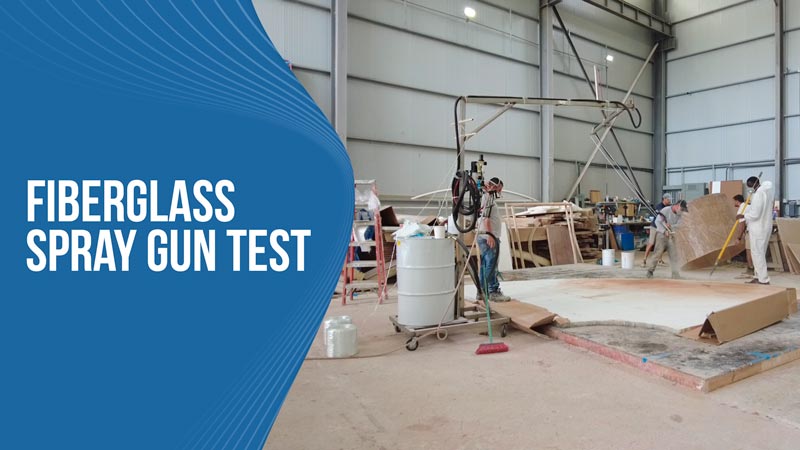 Less than 1 minute
Reading TIme:
Minutes
We recently did the first test run with our new fiberglass spray gun and things went great. Now, it is time to put it to work to make a floor for the SeaPod. This was the first "real world" test of the spray gun and we are very happy with the results.
Our old method of laying fiberglass was to lay it in sheets and then apply the resin and roll everything out to use rollers to make sure it is smooth. While this is a tried and true method of applying fiberglass, it takes a long time. This floor section would take hours with this method.
The spray gun can complete the same task in a matter of minutes. We are guessing it'll be at least 70% faster than our old method which will help make our production move much faster. Every minute counts and we want to shave off as much time as we can so that we can get more SeaPods on the water as soon as possible!
This gun works by taking strands of fiberglass and chopping them into little pieces before blowing them out and onto the surface. The gun also sprays the resin at the same time and they mix on the surface. This makes it so that we don't have to fuss with the individual sheets of fiberglass. Once everything is sprayed down, we simply go back with the roller and smooth everything out.
There is a bit of a learning curve to get all of the settings dialed in properly but we are getting there. It takes a little trial and error to get everything perfect, but so far, so good. The results that we are seeing are fantastic and turning a multi-hour job like this into 20 minutes is a massive step towards a quick and efficient production process.
GET THE LATEST UPDATES
Want to find out the latest updates?
Submit your email and we will keep in touch.