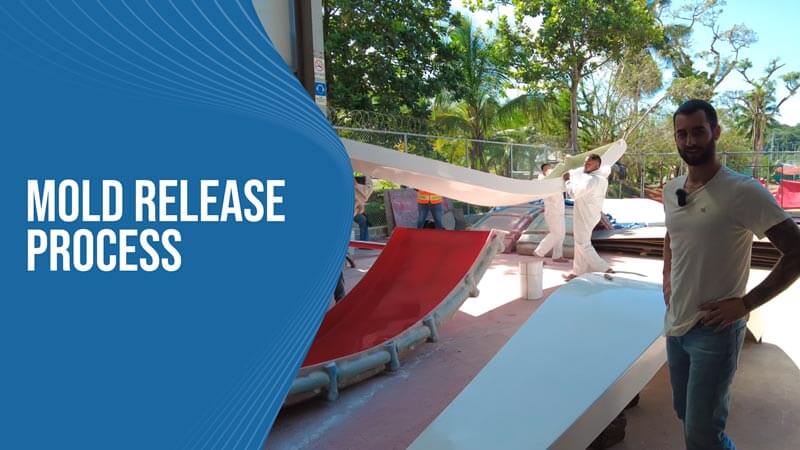 Less than 1 minute
Reading TIme:
Minutes
Each section of the SeaPod is made in a specially built mold that we use to form the fiberglass. Here we are at the factory with Connor to show the process of removing the finished fiberglass section from the mold. The fiberglass is hardened with a resin, but that resin also grabs onto the mold making the process to release it difficult.
Pieces with a larger surface area are more difficult to release from the mold and since everything fits so snuggly, it takes a bit of beating and banging to pop the section out. One of the first steps is to remove the end caps from the mold so that the curved sections do not hook around and hold the section in the mold.
We apply a layer of releasing wax to help prevent the resin from grabbing onto the tooling gel coat which we use as the surface of our mold. Another step that we do is to force compressed air through the back of the mold. The compressed air goes between the mold and the fiberglass section which allows the air pressure to help create the separation.
In addition to this, we also use rubber mallets to strike the mold and the fiberglass section. The vibration from the mallets not only helps to get the compressed air in but the vibrations from the mallets cause everything to release. As you can see in the video, using all of these methods together causes the fiberglass section to release itself from the mold and we can effortlessly pull the section out without force.
The section that you see being removed in this video is one of the subfloor sections that will make up the bottom "bowl" shape of the SeaPod. Since we put so much work into perfecting our molds, these sections come out with a very smooth and bright surface that will make the SeaPod as beautiful as it is functional.
Just for this section, we will have to repeat this process 26 times for each SeaPod that we produce so we will be using multiple molds so that we can make multiple sections at the same time. As we continue to produce these sections we will be sure to keep everyone updated. Everything's coming together and we are working to get our first SeaPod shell completed in the coming months. We hope that you are as excited as we are!
GET THE LATEST UPDATES
Want to find out the latest updates?
Submit your email and we will keep in touch.
GET THE LATEST UPDATES
Want to find out the latest updates?
Submit your email and we will keep in touch.