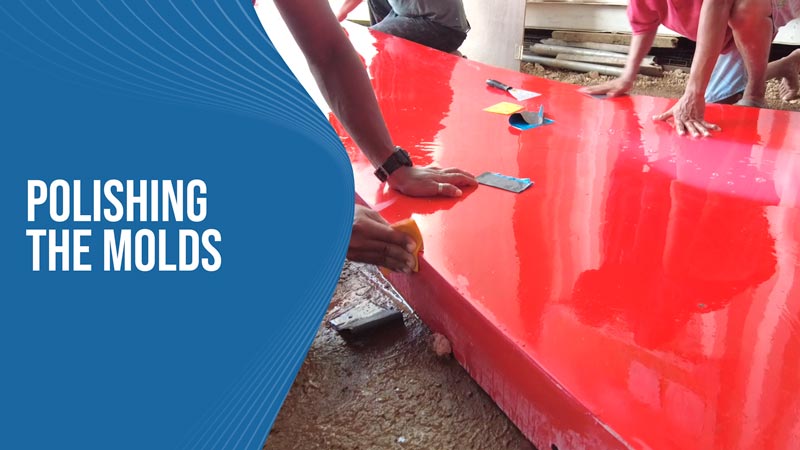 Less than 1 minute
Reading TIme:
Minutes
We are back at the factory where our crew is working on the finishing steps of getting some of our molds ready for production. These 14 mold sections make up the top shell of the SeaPod, and they are quite large, with this being one of the smaller pieces.
We recently removed these sections from the master mold plug. When they are first removed, the surface is smooth but it isn't smooth enough for our use. This means that we have to polish each section by hand to achieve the super-smooth finish that we need.
The red surface is a super hard tooling gel coat that gives the mold the durability to be used over and over. This tooling gel will be the working surface of the mold so all of the pieces that we make will mirror this surface. We have to make sure the surface is perfect so that we don't transfer any imperfections to the finished pieces.
The crew is using a combination of sandpaper and water to get the super smooth mirror-like finish that we need. The sandpaper that we use is very high grit so that it can achieve a smooth surface without digging too deep into the tooling gel coat. A working surface that is super smooth will also help to make the process of removing the finished sections from the mold easier.
It takes several hours for our crew to finish each section, and with 14 total mold sections that need this process, it will take a few days to get them all finished. The good news is that once the finishing work on each of these sections is completed, all of the molds that we need to start producing the top dome of the SeaPod will be ready to go into production.
These molds along with our functioning molds for the bottom subfloor of the SeaPod put us another step closer to getting a SeaPod into the water. The many different aspects of this project are really starting to come together so be sure to be on the lookout for more progress updates in our blog!
GET THE LATEST UPDATES
Want to find out the latest updates?
Submit your email and we will keep in touch.
GET THE LATEST UPDATES
Want to find out the latest updates?
Submit your email and we will keep in touch.