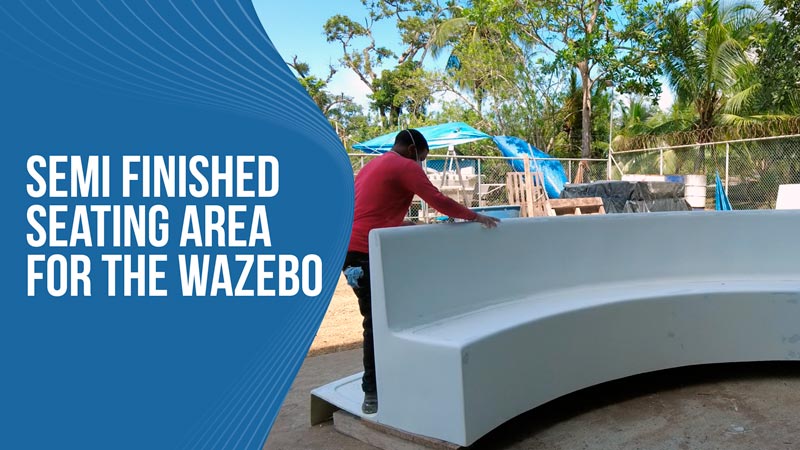 Less than 1 minute
Reading TIme:
Minutes
It's "Crunch" time for the wazebo benches! We are very excited to put the final touch on these key elements of our Pods for one of their most important uses: relaxing. But for now, we only have a few days left before launch on the water!
If you follow our promising progress, you know that we have put a lot of effort in designing the wazebo. It is to be installed on the floating spar that will assist in the pod's stability along with the other two spars where the solar panel station and jacuzzi will be installed. The frame itself is done and we are finishing the construction of the benches.
It is quite a complex design because every bench is coupled with a seating area at the back, and of course everything being custom-made, problems can arise. Hence, we've run into a little bit of trouble with this piece because the bench didn't come out of the mould properly. As a result, it was broken in a couple of places, adding extra repair work to our already tight schedule.
We know what we did wrong, so we will do better next time. Anyway, no time for overthinking as we need to get these benches done as soon as possible for them to be loaded with all the other elements by the end of the week.
One thing for sure, once the repairs are done and the teak wood installed along the inside, this bench will look fantastic! Once paired with the opposite bench, the wazebo seating area will be a favourite spot for you and your guests! You'll be just a meter above the water and have seating for more than 25 people with plenty of open space to enjoy some yoga or meditation. Just pull out the 8 seats from within the table, and transform the space for a sea-dining area to further feel in paradise above water.
GET THE LATEST UPDATES
Want to find out the latest updates?
Submit your email and we will keep in touch.