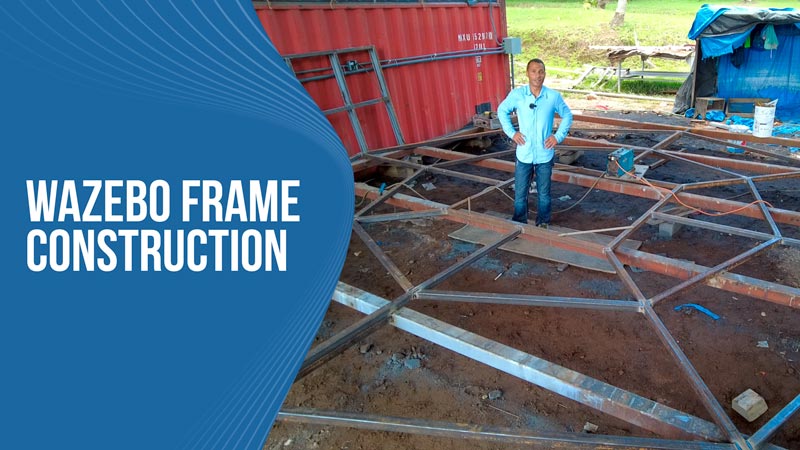 Less than 1 minute
Reading TIme:
Minutes
We have spent more than a year coming up with the design for the Wazebo(water+gazebo) and after plenty of edits and revisions, we have come to a final design that is going to be the perfect outdoor hangout spot.
Having a great outdoor living space is so important when living in a tropical area with beautiful weather. Since you won't have a traditional yard when floating in the ocean, we made it a priority to add a bit of real estate where you can relax and entertain friends while enjoying some time outdoors.
The platform is more than six meters in diameter and will sit just a meter and a half above the water so there will be plenty of space to do yoga, have guests, or just relax and watch the sunrise over the horizon each morning.
The center of the platform will have a table that can be used as a dinner table. There will be eight chairs that are able to stow underneath the table to save space when they're not being used. On either side of the platform will be a cushioned bench seating area for seven or eight people per side. These couches will be a perfect spot to lounge and relax with friends while enjoying the ocean breeze.
Just behind these couch areas will be outward-facing cushioned seating where your feet will dangle about a meter above the water. We will have speakers that can play music through our multiroom audio system to help bring this hangout area to the next level.
The Wazebo will be mounted on one of the three outer spars of the floating TriPod base. Another spar will have the hot tub and the last one will hold the solar panel array that will help power the home. We are sure that the Wazebo will be a hit and we are sure that you will fall in love with this fantastic chill-out spot!
GET THE LATEST UPDATES
Want to find out the latest updates?
Submit your email and we will keep in touch.