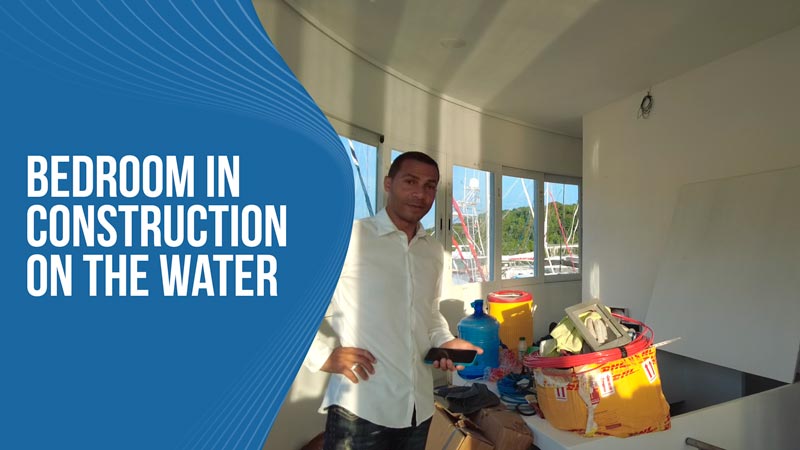 Less than 1 minute
Reading TIme:
Minutes
A night at sea is nearly a reality as we are making great progress in the bedroom's construction. Soon, we will launch it in the water and we are all hoping that Grant will let us enjoy a night in the Pod!
Do you remember when around that time last year we were taking you on a virtual tour through the design of the SeaPod's bedroom walk-in closet? Sounds like a decade away for us because Ocean's Builder's journey from drawing to reality has progressed immensely in a year!
That's why we are so excited to show you around the bedroom right now even though it is still fairly messy.
One of the biggest challenges in building a floating home like the SeaPod is finding ways to be as efficient as possible with space. Without doubt, you can imagine that it extends to buildings in such an environment, so we need to move around boxes and cabinetry to show you the bedroom's pod as it is now.
We're finishing the stairs and the storage area where everything that runs the house like the brain computer, water tank, desalination machine and more. There's still a bit of electrical wiring hiding to do as well, but before you know it the Pod's bedroom will look as slick as we imagined it. As inviting as you dreamed of.
The windows are now installed and we can already appréciate what it will be like to wake up from the Pod's bed. The plastic films are still in place though because we aren't done with construction mode, and the last thing we would like to do would be to scratch them when building.
It's widely agreed among the team that the windows will offer incredible views with nearly 360º around the home to enjoy whatever sight you would have decided the Pod to face.
GET THE LATEST UPDATES
Want to find out the latest updates?
Submit your email and we will keep in touch.