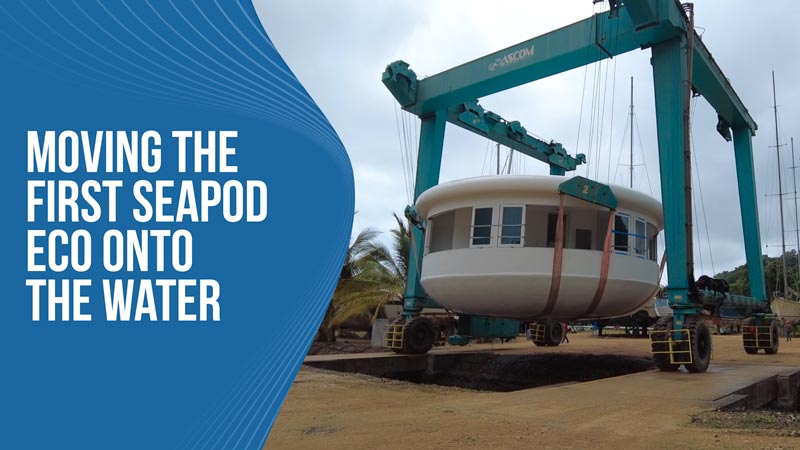 Less than 1 minute
Reading TIme:
Minutes
Today is the big day! It's time to finally put the SeaPod Eco on the water. This is not an easy job and requires a bit of teamwork but that's nothing new for the Ocean Builders crew. We only get one chance to do this right so we are going to take our time and make sure that it gets done right.
Before we get started, we are strapping all of the windows in place so that they don't side around and potentially break. We then have to use the telehandler to pull the trailer that is holding the EcoPod into position so that we can strap it and use the crane to lift it.
Once we tow the EcoPod underneath the travel lift, we have to secure the straps that will lift it into the air. The Pod has a curved bottom so we have to carefully secure the straps so that they don't slip out and drop the Pod.
We can then lift the Pod and drive the travel lift out over the water. Then the fun begins. We have to align the Pod above the center spar and then slowly lower it until it rests on the supports. It takes a bit of work to get everything lined up but once we do, everything slides together perfectly.
It is a game of inches to get everything lined up but we are proud to say that we found success! We got the EcoPod mounted onto the floating TriPod and we now have a SeaPod Eco floating above the water here in Linton Bay, Panama! This is a monumental moment for us and we are so glad to be able to share it with you… now, we get back to work to get ready for the global launch event!
GET THE LATEST UPDATES
Want to find out the latest updates?
Submit your email and we will keep in touch.