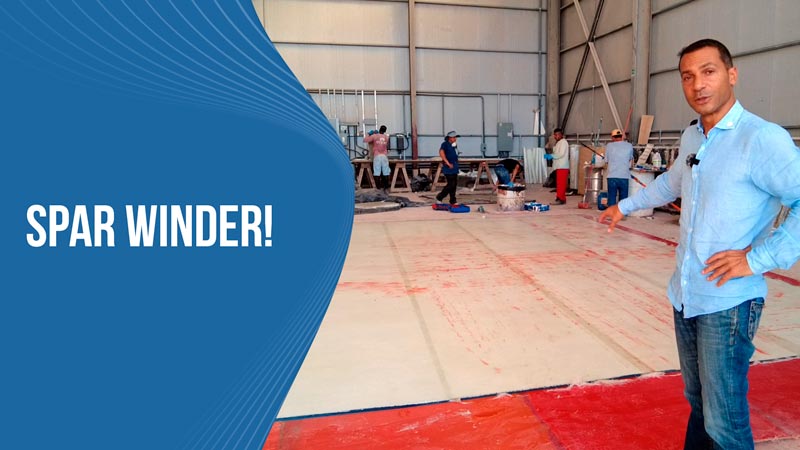 Less than 1 minute
Reading TIme:
Minutes
What you see here is what will be the center spar of the SeaPod Eco unit #2! Now, you may be wondering how this big flat square of fiberglass will become the cylindrical tube shape that our spars have. It may not look like it now, but there is a method to our madness!
So we start out with this large flat setup. The red surface that you see is a mold of sorts, it is just flat instead of having a shape. The surface of the mold is super smooth and has a layer of gel coat which allows us to have an ultrasmooth mold that will make it easier to release the fiberglass. It will also give us a smoother surface on the finished product.
So the crew is putting down the layers of fiberglass and resin which will create the big square that will eventually become the center spar of the SeaPod Eco. When everything is ready to go, we will slowly roll this flat piece into a cylinder using a special machine that we are currently building. If you are having trouble visualizing it, we do a similar process with steel to make our steel spars where we start with a flat sheet and roll it into a cylinder.
This new method will drastically improve our production time. The first spar took about three months to build. We think that this one will take about three weeks to complete and the new machine should allow us to make two or three spars per week which is 24 to 36 spars in the same time that it took to build the first! We are constantly improving our processes to reduce the production time so that we can get more SeaPods on the water!
Be sure to follow along as we turn this big flat piece of fiberglass into what will be the backbone that connects everything in the second unit of the SeaPod Eco! We will be attaching the subfloor sections, the roof, walls, floors, and the spiral staircase that will be in the middle of it all. Stay tuned for more exciting stuff coming from the factory!
GET THE LATEST UPDATES
Want to find out the latest updates?
Submit your email and we will keep in touch.
GET THE LATEST UPDATES
Want to find out the latest updates?
Submit your email and we will keep in touch.