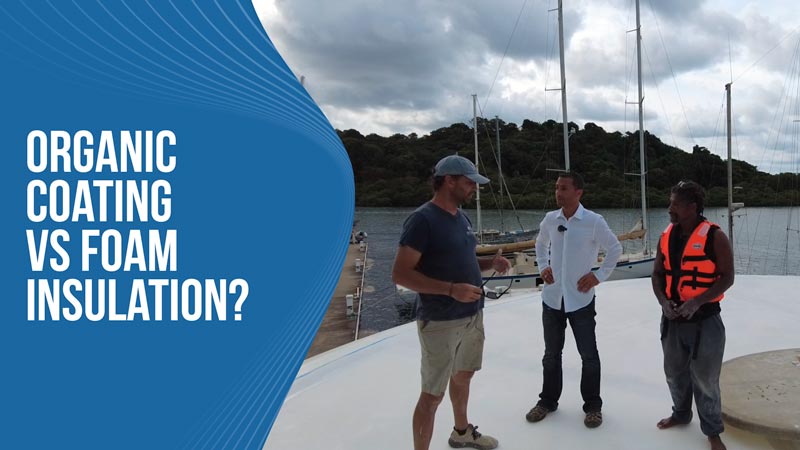 Less than 1 minute
Reading TIme:
Minutes
Let's get to the roof! Specifically, let's discuss what we used to protect the roof and what choices we had: organic coating Vs. foam insulation. Grant settled on the roof with coating specialist to benefit from his technical expertise on this topic.
By definition, roofs get exposed to everything nature can possibly throw at. Sun, rain, hails, UFO parts, and more! Thus, it is of critical importance for the Pods roof to be designed with the best materials once we assembled the 4 pizza-shaped disks together.
As sustainable living advocates, we wanted to find an alternative to the chemically produced foam insulation. In the same way that we relied on organic concrete to protect the TriPod base, we wanted an environmentally-friendly-solution for the roof's coating. After all, one of the main functions of the roof is to collect rainwater, so it's better if we reduce the chances of this water to be contaminated, be it that it will still be treated later on.
We found happiness by combining nanomaterials and waterborne resins is an effective way to obtain high-performance waterborne coatings. It's a bit of a mix between a firethorn and a thermal coat with reflective properties that will keep you cool and safe inside the Pod.T
The best way to show you is to test it, so we did! We used a propane torch producing 200°C of heat, way more than the absolute maximum of 80°c that would be felt on the roof itself. Want to know what happened? Can't write it as best as what you'll see in the video so please do that below.
So the quality is great, it's more environmentally-friendly, and it's lighter, so we will on all counts.
The roof's function is a little bit more than just protecting the Pod though. Thanks to the Skylight controller, you can easily climb up there and take off in your helicopter, enjoy sunbathing or install a hammock for a 360°c view.
GET THE LATEST UPDATES
Want to find out the latest updates?
Submit your email and we will keep in touch.
GET THE LATEST UPDATES
Want to find out the latest updates?
Submit your email and we will keep in touch.